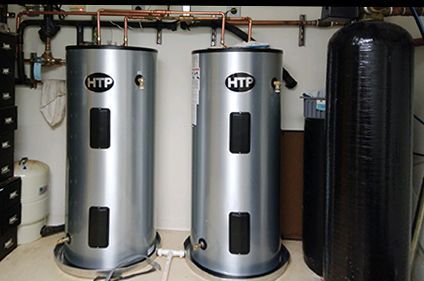 The Everlast delivers long draws of hot water without consuming large amounts of energy and its durable components, low standby heat losses, high recovery rates, and LIFETIME warranty make it the perfect choice for high-demand commercial applications.
With its high-quality stainless-steel construction, heavy-duty foam insulation, and cleverly-designed water connection that directs cold water to the heating element near the bottom of the tank, minimize the mixing of cold and hot water, the Everlast operates at up to 98% thermal efficiency rating.
And its high-performance Incoloy™ tank elements resist corrosion and scale build up for a longer tank life and their low watt density reduce the chances of element burn out for a longer service life than conventional elements.
The Everlast Commercial Water Heater is available in 6 models ranging from 10 to 50 gallons. These two 50-gallon, lifetime warrantied, stainless steel water heaters were beautifully installed by Professional Plumbing & Design plumbers Tony, Wayne, and Anthony at a spa in Sarasota.
If you're looking for the perfect water heater for your commercial application Call The Professional at (941) 355-5400.