Tankless Gas & Electric Water Heaters
Tankless water heaters offer an endless supply of hot water in a much smaller package than conventional water heaters and, with a typical lifespan of 20 years or more, Tankless systems last twice as long as conventional tank-style water heaters.
The revolutionary advantage of Tankless water heaters is that when the demand for hot water ceases, the Tankless unit shuts down and uses no electricity. One Rinnai® unit can deliver over 240 gallons of hot water in one hour with no recovery time!
The small size of the Tankless units and their concentric venting system allow you to strategically place them on virtually any wall for maximum performance and energy efficiency. You can seamlessly connect multiple units for use in larger homes and exterior units can even be painted and textured to match your home's exterior!
Rinnai's digital controllers allow you to precisely set water temperatures for multiple locations, they can analyze and troubleshoot the system, and they can even fill your bath to a pre-set temperature and volume!
Tankless Gas Heaters save you up to 40% off your water heating costs and they are a "Green" alternative because they produce less CO2 and NOx. Their efficiency ratings range from 82% to 96% and their warranties range from 3 years to 12 years. Electric models can save you up to 20%.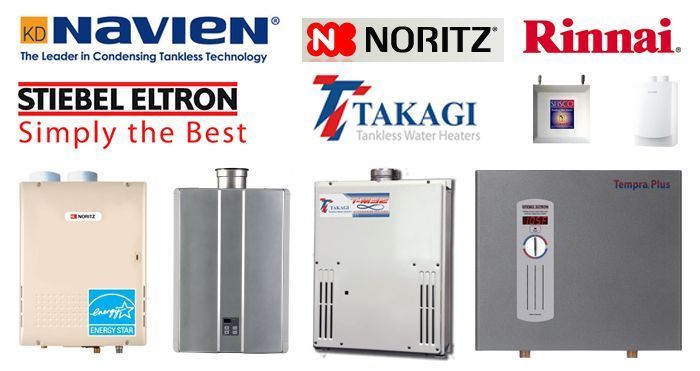 For more information, please visit the following websites:
Professional Plumbing and Design is based in Sarasota Florida. We offer residential and commercial plumbing services for Sarasota and the surrounding areas including Bradenton, Palmetto, and Venice.
If you are in need of a Plumbing Contractor – call the professionals at 941-355-5400, or click here to schedule a service call.