Plumbing Blog
If you are in need of a Plumbing Contractor in Sarasota, Bradenton, Venice or Palmetto – call the professionals!
Hello Friends, Is spring a time to slow down or speed up?
The milder weather certainly gives us a chance to get outdoors more often, take in fresh breezes and enjoy the green and blooming landscape. It's great to relax and recharge. But being busy has its advantages, too! That's why we're so grateful to our customers for allowing us to serve you. Every day we have a chance to help our friends is time well spent.
Our winter was packed with opportunities to help folks like you with fast plumbing repairs and routine service. Some of you are enjoying the start of this season with a new, highly efficient Water Heater to keep you and yours clean, or you're enjoying beautiful new Fixtures and other upgrades that make your home more comfortable. We're glad to help. Just let us know if you need us.
Sincerely,
Andy Wittman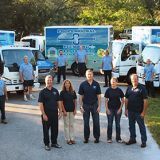 The answer is simple; your old Water Heater may be costing you more than think.
From baths and showers to dishwashing and laundry, we depend on our Water Heaters more than we might realize. In a typical home, the electric Water Heater accounts for approximately 14% of the total energy bill.
That Water Heater is the second largest energy consumer in a typical home – second only to the home heating and cooling system.
Just like in the HVAC industry, the plumbing industry has been trending towards more environmentally friendly designs with significantly improved energy efficiency ratings. The GeoSpring Water Heater by GE, for example, uses 62% less energy than a standard 50-gallon Water Heater. With that kind of savings, it's easy to see how a new Water Heater can pay for itself in no time.
Water Heaters are not a one-size-fits-all appliance. There are a variety of factors to consider when choosing a new Water Heater and that is why it is important to have a knowledgeable and trustworthy professional to guide you through the selection process. The right Water Heater will add value to your home, reduce your energy bills, and add convenience for years to come, but you have to choose right...
For starters, you have a choice of power source. Water Heaters come in gas (natural or propane) with a variety of venting options (standard, power and direct vent), electric, hybrid gas and electric, and solar Water Heaters which produce up to 90% of your home's hot water for free. If there is one thing we have a lot of in Florida, it's sunshine...
Water Heaters are also available in the traditional tank style and tankless. Tankless models offer increased efficiency because you are only heating the water that you consume and they offer an endless supply of hot water in a much smaller package. Tankless Water Heaters also last twice as long as the tank style Water Heaters and the warranties range from 3 to 12 years.
If your Water Heater is more than 15 years old, replacing it could significantly reduce your electric bill and add value to your home. If you're not sure when your Water Heater was built, check the first 4 digits of the serial number for the month and year of manufacture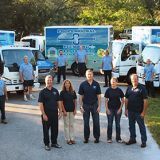 Professional Plumbing and Design can install any type of Water Heater, but we find more people are choosing Hybrid Water Heaters due to their high efficiency, and savings on electric bills.
There are both gas and electric hybrid
Water Heater
s available. These
Water Heater
s use heat pump technology, which means they store more energy and save you money. Hybrid
Water Heater
s offer over twice the efficiency of standard
Water Heater
s.
Some models have a display with different operating modes such as: Efficiency, Hybrid, Electric, and Vacation. Hybrid Heat Pumps can reduces water heating cost by up to 66% by pulling environmental heat while dehumidifying and cooling the ambient air.
If you are ready to replace your
Water Heater
, please give us a call and we can show you different options, and help you choose the right product for your home or business.
Why People Choose Professional Plumbing:
On time or it's free guarantee
Because we know your time is valuable, we will arrive at your home, ready to assist you, within a precise appointment window or your service charge is free.
Up-front pricing
You won't have to wonder how much your repairs will cost, because we will give you the price up front, with options, before we do the work.
100% satisfaction guarantee
If you are unhappy for any reason, we will re-do your repair for free. If you are not 100% satisfied, we will do whatever it takes to make you a 100% satisfied customer.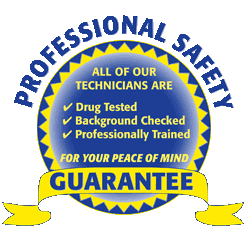 Professional Safety Guarantee
All of our technicians are drug tested, background checked and professionally trained for your peace of mind.
Red Carpet Treatment
We will treat your house like a castle and always clean up after ourselves. We'll give you our "red carpet treatment" and our technicians will wear shoe covers to protect your carpet and floors!
No answering machine or voicemail!
We will always be there for you. Our phones are staffed 24 hours a day so you can always speak to a live person.
The Seal of Security and Confidence provides Peace of Mind!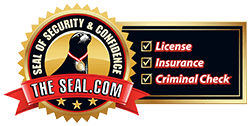 The Seal.com verifies license, insurance and customer service. They perform yearly nationwide criminal background and sex offender checks on the actual employees interacting with your property or family.