Plumbing Blog
If you are in need of a Plumbing Contractor in Sarasota, Bradenton, Venice or Palmetto – call the professionals!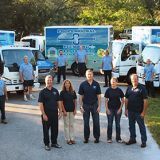 If you are a Home Owners Association Manager, chances are you have all had that 5am call regarding water pouring through the ceiling from the unit above.
Neighbors are knocking on the door of the resident upstairs and there is no answer. He isn't answering because he's in the shower and doesn't know his shower water is pouring thru three floors. And he can't hear the neighbor's urgent knocks on the door, or their phone calls.
By the time the shower is over, three floors of units are wet and need drying out. What happened? One of the cast iron pipes in the bathroom burst and flooded three units below. The resident getting out of the shower is blissfully unaware of the situation, until he checks his messages.
By now the neighbors have all used the emergency number to reach the manager. The manager has dispatched the crew to look at the problem. The building maintenance crew is on their way to the unit or already knocking on the door.
The Plumber will be called to make the repair. The resident is instructed not to use the shower until the plumbing problem is fixed. A remediation company will be called to dry out the units below. The insurance company will also need to be involved. Everyone wants to know how soon this situation is going to be fixed.
In addition to the stress, the condo is probably spending funds that weren't budgeted. Welcome to management by crisis! This is a common situation. Don't let it be common at your community! Cast iron pipes have a projected life of 25 – 30 years. Plan for replacement.
Being proactive can eliminate a lot of pain for the residents, the manager, and the board. That's not to say it won't happen again. But having a corrective plan in place is far less costly in terms of stress and dollars than responding to an emergency.
How do you know you have bad pipes? Interior and / or exterior corrosion, rust, cracking, thinning of the pipe, deterioration visible by camera. Leaking, ruptures, frequent clogging, sewer backups, slow drains, foul smells, and pests such as rodents and roaches are also signs that plumbing problems are lurking...
Typically, it is the bathroom, kitchen, laundry room and vent pipes that burst. When you have to open the walls to replace a section of pipe - consider replacing all of the visible cast iron pipes in that section of wall before you close the wall back up. There's nothing worse than having to come back and replace another pipe in the same wall. This definitely makes for unhappy residents! If the resident is doing a renovation on their unit, require them to have all of the pipes replaced while the walls are open. Which is much less expensive and you're preventing a later disaster!
Why People Choose Professional Plumbing:
On time or it's free guarantee
Because we know your time is valuable, we will arrive at your home, ready to assist you, within a precise appointment window or your service charge is free.
Up-front pricing
You won't have to wonder how much your repairs will cost, because we will give you the price up front, with options, before we do the work.
100% satisfaction guarantee
If you are unhappy for any reason, we will re-do your repair for free. If you are not 100% satisfied, we will do whatever it takes to make you a 100% satisfied customer.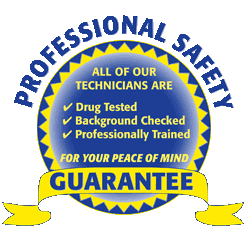 Professional Safety Guarantee
All of our technicians are drug tested, background checked and professionally trained for your peace of mind.
Red Carpet Treatment
We will treat your house like a castle and always clean up after ourselves. We'll give you our "red carpet treatment" and our technicians will wear shoe covers to protect your carpet and floors!
No answering machine or voicemail!
We will always be there for you. Our phones are staffed 24 hours a day so you can always speak to a live person.
The Seal of Security and Confidence provides Peace of Mind!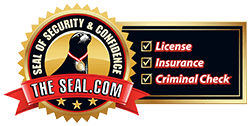 The Seal.com verifies license, insurance and customer service. They perform yearly nationwide criminal background and sex offender checks on the actual employees interacting with your property or family.