Plumbing Blog
If you are in need of a Plumbing Contractor in Sarasota, Bradenton, Venice or Palmetto – call the professionals!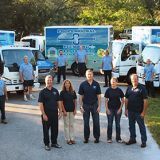 Is a tankless Water Heater right for you?
Tankless Water Heaters are just one of the many Products that Professional Plumbing & Design offers our clients throughout Sarasota and the surrounding communities of Bradenton, Palmetto, and Venice.
Tankless Water Heaters offer an endless supply of hot water, so you never have to take a cold shower and, by instantly heating only the water you need, when you need it, these suitcase-sized units save more than just space; they save energy, which means you save money!
In the past, installation of these units was complicated and costly, but recent improvements in their design have made it easier than ever to switch from a conventional, tanked Water Heater to an energy-saving tankless model. Many of the top manufacturers have even started offering tankless units that will work with existing 1/2-inch gas lines; this makes retrofit installations faster and less expensive than before.
Many of the older tankless units had trouble keeping a steady flow of hot water, but the newer models have addressed this problem by adding a recirculation pump that ensures that water comes out hot from the very beginning and stays hot for as long as it is running.
If it's time to replace your Water Heater, consider switching to an energy-saving tankless Water Heater; the recent changes in technology and design have made them a great option!
Why People Choose Professional Plumbing:
On time or it's free guarantee
Because we know your time is valuable, we will arrive at your home, ready to assist you, within a precise appointment window or your service charge is free.
Up-front pricing
You won't have to wonder how much your repairs will cost, because we will give you the price up front, with options, before we do the work.
100% satisfaction guarantee
If you are unhappy for any reason, we will re-do your repair for free. If you are not 100% satisfied, we will do whatever it takes to make you a 100% satisfied customer.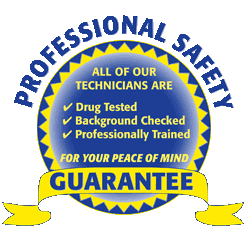 Professional Safety Guarantee
All of our technicians are drug tested, background checked and professionally trained for your peace of mind.
Red Carpet Treatment
We will treat your house like a castle and always clean up after ourselves. We'll give you our "red carpet treatment" and our technicians will wear shoe covers to protect your carpet and floors!
No answering machine or voicemail!
We will always be there for you. Our phones are staffed 24 hours a day so you can always speak to a live person.
The Seal of Security and Confidence provides Peace of Mind!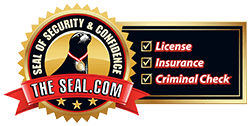 The Seal.com verifies license, insurance and customer service. They perform yearly nationwide criminal background and sex offender checks on the actual employees interacting with your property or family.