Plumbing Blog
If you are in need of a Plumbing Contractor in Sarasota, Bradenton, Venice or Palmetto – call the professionals!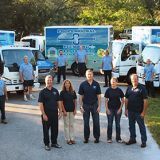 With a 50+ year life expectancy, pipe Lining provides a long-term solution for cracked or leaky drain pipes without the need for digging up landscaping or tearing up walls and floors so it's a cost-effective, minimally-invasive alternative to complete pipe replacement.
Pipe Lining adds a durable protective layer inside the compromised pipe that enhances the structural strength of the existing pipe, prevents root intrusion, stops leaks, seals cracks, and increases flow.
Professional Plumbing & Design is a Certified Perma-Liner Industries installer.
Perma-Liner's state-of-the-art is installation system uses a single point of entry to ensure that there is complete saturation and adhesion to the host pipe and, because the stand-alone design does not require a host pipe, Perma-Liner can even bridge missing sections of pipe!
Our Perma-Liner™ Drain Pipe Lining is the solution to your drain problems.
Bridge missing sections of pipe
Repair cracked or broken pipes without excavation
Eliminate root intrusion
Stop infiltration and exfiltration
All Perma-Liner materials are made in the USA and they carry a 10-year manufacturer's warranty!
Professional Plumbing & Design is based in Sarasota Florida. We offer residential and commercial plumbing services for Sarasota and the surrounding areas including Bradenton, Palmetto, and Venice.
Why People Choose Professional Plumbing:
On time or it's free guarantee
Because we know your time is valuable, we will arrive at your home, ready to assist you, within a precise appointment window or your service charge is free.
Up-front pricing
You won't have to wonder how much your repairs will cost, because we will give you the price up front, with options, before we do the work.
100% satisfaction guarantee
If you are unhappy for any reason, we will re-do your repair for free. If you are not 100% satisfied, we will do whatever it takes to make you a 100% satisfied customer.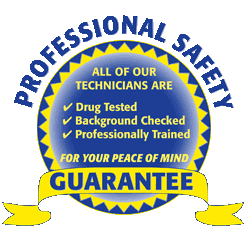 Professional Safety Guarantee
All of our technicians are drug tested, background checked and professionally trained for your peace of mind.
Red Carpet Treatment
We will treat your house like a castle and always clean up after ourselves. We'll give you our "red carpet treatment" and our technicians will wear shoe covers to protect your carpet and floors!
No answering machine or voicemail!
We will always be there for you. Our phones are staffed 24 hours a day so you can always speak to a live person.
The Seal of Security and Confidence provides Peace of Mind!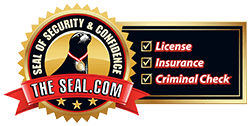 The Seal.com verifies license, insurance and customer service. They perform yearly nationwide criminal background and sex offender checks on the actual employees interacting with your property or family.